What We Believe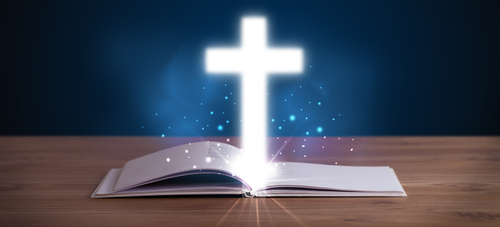 God
There is only one God (John 17:3). He is all-knowing (1 John 3:20b), all-present (Proverbs 15:3), and all-powerful (Mark 10:27). He created everything that exists (Genesis 1:1). He is eternal (Isaiah 40:28) and holy (Leviticus 11:44), one God, existing in three coequal persons: the Father, the Son, and the Holy Spirit (Matthew 28:19, 1 Peter 1:2). Though three persons, He is one God. This is often called the Trinity or Godhead.
God the Father
The Father is the 'focal point,' or 'head' of the Trinity. It was by His power that all things were made and have their life (Ephesians 2:10, 1 Corinthians 8:6). He will bring the end of the world as we know it and all will be judged (Acts 17:31). The Son (John 5:19 , 10:18) and Holy Spirit (John 16:13) submit to the Father though they are coequal with the Father.
God the Son
Jesus Christ is the Son of God and coequal with the Father (Colossians 1:15). He is the person of God by which the entire world was made and in whom all things have their meaning (John 1:10, 1 Corinthians 8:6). The Son of God came to the earth in the flesh (John 1:14) to live the perfect example for us to follow (John 13:15-17), thereby being the perfection of the Old Covenant (Hebrews 5:9, Matthew 5:17). He died for our sins, because in being perfect he was the only one who could fully pay the price of sin (Hebrews 9:12-14). He was crucified, buried, and raised by the Father on the third day after his death (1 Corinthians 15:3-5). He ascended into Heaven (Acts 1:9) where he sits on the throne at the right hand of the Father (Hebrews 12:2) where he is interceding in prayer for all Christians (Hebrews 7:23-25). He will return to the earth to bring judgment upon it (John 5:27, Matthew 25:31-46).
God the Holy Spirit
The Holy Spirit is coequal with the Father and the Son (Matthew 10:20, 2 Corinthians 3:17). Though He worked in the lives of men and women before Christ (Numbers 11:14-17, 24-27), it was after Christ that He was poured out on all men (Acts 2:17, 33). It is through Him that we have intimate contact with the Father (Romans 5:5). He was sent in order to teach truth (John 14:16-17), convict the world of its sin (John 16:8), and teach them to remember Christ (John 14:26). He moves in the lives of everyone, but dwells in the hearts of those who are Christians and gifts them (Acts 2:38, 1 Corinthians 12:7-13, Galatians 4:6) as a guarantee of eternal life (2 Corinthians 1:22). It is by His power that Christians are able to change their ways and renew their minds to think on the things of God and not on things of the world (Titus 3:5-7, Galatians 5:16). He prays for God's people on their behalf when they do not know for what to pray, groaning to God all the inexpressible feelings from their hearts (Romans 8:26).
Humans and Creation
God created all that exists (Genesis 1:1). All creation was created 'good', including humans (Genesis 1:31). They were created in God's image (Genesis 1:26-27) and were supposed to live forever in communion with God (Genesis 2:15-17, 3:8). Humankind became imperfect when they committed the first sin, separating all from God (Genesis 3:9-19,Isaiah 59:2). This brought death and evil into the world and created what we now call the 'human condition', which is: though humans have potential for great good, they have a desire to do what is wrong (Romans 5:12-14, 7:14-24).
Salvation
Humans were spiritually dead in sin when Jesus died for them. By his death he provided to all, who would accept his grace, a way to be free from sin (Titus 2:11-14). This salvation is a free gift and cannot be earned by being 'good enough' (Ephesians 1:4-8, 2:6-10). It also cannot be taken away by the enemy or accidentally lost (Romans 8:38-39), though people can walk away and deny it (2 Peter 3:17, 1 Timothy 1:18-19). This salvation brings back life, communion with God, and provides the Spirit to dwell in the saved (Ephesians 1:13).
Response to the Gospel Message
The Gospel message demands a response. For those who accept the message, this response starts with belief, which is one's initial contact with God's grace (Acts 16:31). Belief is naturally followed by confession, which is the acknowledgement of God's grace (Romans 10:9-10). After confessing Christ's lordship, repentance turns one away from sin to the move toward the likeness of God (Acts 3:19). Repentance of sins brings the desire to die to sin through baptism, immersion in water (Acts 2:38-39). Once dead to sin, a Christian will strive to obey the Will of God all the days of his life (Philippians 2:12-13).
The Body of Christ
When one becomes a Christian he or she is added to the body of Christ: the church (1 Corinthians 12:27-28,Ephesians 5:23). The church is God's light to the world (Matthew 5:14-16, Acts 13:47, Ephesians 5:8-10). Being actively involved in a church provides support and is absolutely necessary and expected as part of a Godly walk (Hebrews 10:24-25).
Christ's Return
Christ, who was crucified, buried in a tomb, raised to live again, rose out of the tomb, and ascended to heaven, will return to earth again (Revelation 22:12, 20). He will come when no one expects it (Matthew 25:13, 1 Thessalonians 5:1-3), and he will come with the angels (Mark 13:27, 2 Thessalonians 1:7). He will bring judgment upon the world and deliver those who bear his name and have claimed his salvation (Matthew 25:32-46, 2 Corinthians 5:10). Then he will destroy the world with fire (2 Peter 3:10-13).
Eternity
Humans were created eternal creatures (Genesis 2:15-17, 3:22). All will be given a spiritual body during the resurrection on the Day of Judgment when Christ returns (1 Corinthians 15:42-49). Then we will return to eternal life. Either we will live eternally with God in His presence (1 Thessalonians 4:16-17), or we will live eternally outside the presence of God (2 Thessalonians 1:9-10, Jude 1:7). Heaven and Hell are real. And it is an eternity in either one.